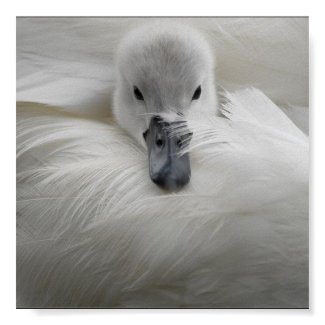 Today's blog post is brought to you by the letter F. I think Big Bird might just approve, since my feature topic today is not a bird but something every bird needs. Yes, you guessed it: feathers.
A feather theme can be elegant and classic, or vibrant and fun. Go glam with ostrich plumes, pure and innocent with white 'angel' feathers, or exotic with peacocks.
In fact, if you search for a feathery motif, you'll find those jewel-like peacocks at every turn, with a peacock feather theme so popular for weddings and celebrations. If you're going for this theme, make the most of those gorgeous turquoise and emerald tones by matching them with gold and black.
Look beyond these eastern beauties for a moment and you'll find other birds whose plumage has enchanted us over the last 100 years. For instance, think plumes and chances are you'll bring to mind showgirls and the decadence of art deco. If, like me, you are a ballet lover, you might think too of the white and black feathers of the swans in Swan Lake.
For writers and poets, feathers served a different role, and a quill still conjures up a time when writing well demanded care and skill. Then there are the cultural connections that feathers have for many, calling them back to their heritage.
Whichever way you look at them, feathers and the beautiful birds they belong to are one of nature's treasures.
Image Credit: Swan, Beautiful White Feathers, Beauty Comfort Print by best_gift
---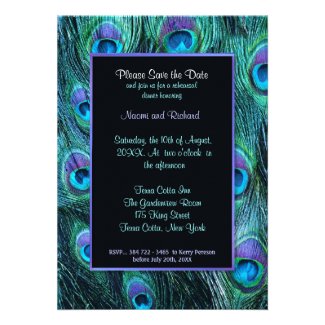 Getting married and want a peacock wedding theme? You'll be spoiled for choice! There are some stunning invitations out there, like this Peacock Feather Invitation by SpiceTree_Weddings.
Even better, they are created in sets to cover every aspect of your event, from announcements and save the dates through to bridal showers, RSVPs and even thank you cards. It couldn't be simpler to give your wedding its own unique identity.
Vibrant blues, greens and purples will make yours a wedding to remember! Ideal for exotic locations or for brides and grooms who love to stand out from the crowd.
---
Peacock plumage also makes a stunning print for home decor and accessories like this throw pillow or cushion.
Keep it big and bold to make the most of the detail in the 'eye' of the feathers. Look out for other matching home items but take care not to overdo it — this is an attention-grabbing feather motif that works best on a few accent pieces.
This particular Peacock Feathers Pillow is by AllHome. The reverse is a bright blue which could be personalized to commemorate a special occasion.
---
In equally vibrant shades, here's a great clock for someone who loves exotic birds. This Hawk-headed Parrot Feather Circle Wallclock from the talented duo behind BirdorableParrots features not just a hawk-headed parrot in green and magenta but also a ring of feathers around the edge of the clock face.
This is made all the more special by this parrot's lovely plumage, which as you can see is made up of feathers striped with green, red and blue. This parrot is also known as the Red-fan Parrot, thanks to its impressive fan-like crest.
---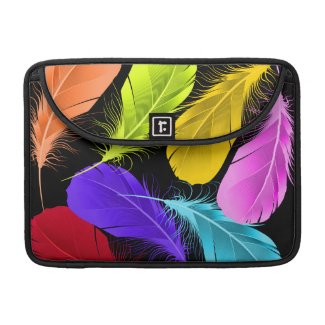 If you love colour and want a feather theme, but don't have a particular bird in mind, take a look at this Bold Vivid Wild Colored Feathers On Black design by StarStruckDezigns.
Here it's shown on a Macbook sleeve, but it's also available on a huge variety of other cases and accessories — 99 of them, in fact. The range includes messenger bags, cases for the most popular phones, mugs, notebooks, and a fantastic pair of flip flops too!
Whatever you choose to put it on, these feathers create a vivid rainbow against their black background. Modern and cheerful, this design creates a sensation!
---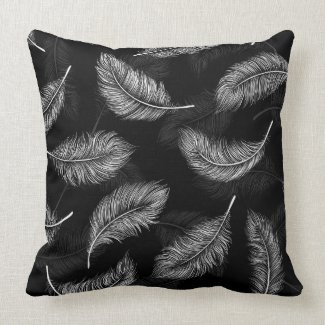 Of course, for many of us, feathers have quieter associations. Sleeping in a soft feather bed, or the slow, silent drift of a feather on the air.
This White feathers pillow by katstore captures the soothing side of feathers perfectly. Classic in a chalky white against black, and detailed enough that you feel you could stroke their fluffy surfaces, these are feathers that float and fall.
Bring some of that peace to your bedroom or a comfy spot in your living room. Sweet dreams will surely follow!
---
It's hard to resist the old-fashioned charm of a quill pen, especially if you are a writer yourself, or have a longing for the romance of days gone by.
In this Quill & Ink Jewelry Box by MidoriMinuet we have a reminder of those times. The stylized feather quill rests in its ink pot against a background of sepia script and sepia-toned paper.
The design is available on many other items too (and is particularly nice on a mug if you need a gift for a writer). However, I loved the way the gift box framed it and also the practicality of the box which could hold small writing accessories or little notes.
---
When we turn feathers into a fun motif, we tend to forget their source. If a lone feather is a thing of beauty, how much lovelier the plumage of a living bird?
This gorgeous Bird of Prey Feathers phone case by TreadSoftly is an example of that. Taken from a close-up photograph of a bird of prey, it is full of detail. There is nothing boring about brown when made up of such intriguing shapes and tones. The image shows off the different sizes of feathers on a birds wing too.
It's a photo that makes you want to reach out and touch it. What a great way to add some individuality to a phone while keeping to a natural theme.
---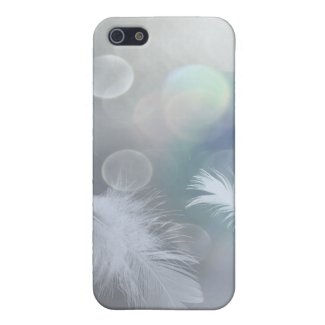 For a look that's feminine (without a hint of pink) and inpsiring with it, take a look at this Of The Angel iPhone case by DreamingAwake.
It's a restful design of 2 white feathers and beautiful, sparkly bokeh (a photographic term for those out-of-focus circles). To me, looking at this image is like looking at a daydream. Although it is subtle, it's magical with it, capturing the purity of white without being bland.
A very lovely, girly design.
---
How about your walls? Could they use some floating feathers too?
Sure they could! And that's exactly what you get with this Umbra Quill Wall Decor, Set of 9
via Amazon.
But these are not just any laser-cut wall decals. Oh no, these ones have a secret that might not be immediately obvious. They have a mirrored surface, so will catch the light and create a head-turning focal point. You can stick them to the wall in any configuration you choose, and they can be easily removed and repositioned too.
---

Maybe you'd love feather wall decals but prefer the look of a silhouette. This Feather PVC Wall Decal Sticker
could be just the thing for you.
Unfortunately it's not a very big picture but you get an idea of how lovely it would look against the wall, and also how big this one is compared with that bed. If I remember correctly, the words in the middle say: You will be in my heart forever.
---
As I hope you've found here, no matter you choose to feather your nest, feathers make a wonderful accent motif for the home.

Image Credit: Feather Plumage Wrapped Canvas Print by spudcreative.
---
Related Posts: